I had all this boiled wool from an Easter Egg ornament kit that I will never make. It looked so cute I had to buy it last summer, but I have not had even the teensiest urge to sit down and embroider a dozen pastel eggs with Easter-themed designs. Whew, fortunately I got to use the wool on this great project - otherwise I might have had some unused craft supplies laying around...ha! Amazingly, all the pieces were already 6" wide by about 8 1/2" tall, so I just cut a triangle from the bottom of each one. To do this, I folded them in half and used my ruler and rotary cutter to mark the angle I wanted. I repeated this step with several rectangles of burlap that were 4 1/2" wide by 6" tall. Make a few extra of the burlap pieces in case you mess up your stenciling like I did.
Before I sewed everything together, I stenciled the letters on the burlap using the technique illustrated here. Good thing, too, because somehow the "I" ended up almost off the bottom of the pennant - what am I, an amateur? Once I had all the letters reasonably centered on my burlap pennants, I sewed them on the wool pennants. Then, I laid them out on the (now white!! I can't wait to show off my craft room redo!) brick floor to get an idea of the spacing I wanted.
Then, I grabbed some neutral 1/2" ribbon and sewed them all on, leaving longer tails at each end of the bunting for hanging! It's so pretty, and I wish I had more boiled wool to make them for friends and family. Alas, I used it all up!
One more project left to finish up the mantel - and it's barely a project at all. It's more of a "tip"! As in, "how to turn one of your kid's smallish balls into a fun decor piece using pieces of scrap fabric". I really like the fabric ball, though, so I might be stealing more of those balls from the bin - don't tell Spatula Man.
Sharing this at:
Newest Link Party: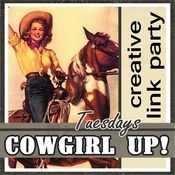 MONDAY:
Make Something Mondays at
Sarahndipities
Motivate Me Monday at
Keeping It Simple
Craftastic Monday at
Sew Can Do
Creative Me at
The Southern Institute
**
'My entry into
Creative Me
is sponsored by Appliances Online and
Bosch Washing Machines
.'**
What's in the Gunny Sack? at The Gunny Sack My insta.week at Let Birds Fly
A Round Tuit at
Creating My Way to Success Mix it up Monday at Flour Me with Love
TUESDAY:
Handmade Tuesdays at
Ladybug Blessings
Tip Me Tuesday at
Tip Junkie
Get Your Craft On at
Today's Creative Blog
Tutorial Tuesday at Newlyweds on a Budget
Tuesday Linky Party
at
The Southern Product Queen
Inspiration Board at homework Take-a-look-Tuesday at Sugar Bee Crafts Party with my Peeps at How to Nest for Less The Power of Paint Party at Domestically Speaking Destination Inspiration at Teagan's Travels
WEDNESDAY:
Show and Tell Linking Party at
Blue Cricket Design
We Did It! Wednesday at
Sew Much Ado
Your Whims Wednesdasy at My Girlish Whims
Made by Me at
Jaqsstudio
Crafty Sasse Wednesday at
the Sasse Life
Show and Tell at
The Delectable Home
Show & Share at Lil Pink Pocket What We Wore & Made Wednesdays at Rae Gun Ramblings Wow Me Wednesday at Ginger Snap Crafts Wordless Wednesday at Marriage from Scratch
Kiss me I'm Irish at
igottacreate
From Dream to Reality at The DIY Dreamer
Homemade by You at
Pincushion Creations
THURSDAY:
Things I've Done Thursday at
Bear Rabbit Bear
Home for the Holidays at
Uncommon
Taking Time-Out Thursday at
Mom On Timeout
Create and Share at
The Trendy Treehouse
DIY Thrifty Thursday at
Thrifty101
Link it up Thursday at
These Peas Taste Funny
Thrifty Thursday at Saved by Love
Thursdays are Your Days at
52 Mantels
DIY Diva at Mine for the Making It's a Party at A Creative Princess Share the Love at Love Notes by Lauryn
FRIDAY:
Latest and Greatest Friday at
Days of Chalk and Chocolate
Frugalicious Friday at
Finding Fabulous
Freestyle Friday at
Happy Hour Projects
Shine on Friday at
Happy Go Lucky
Featured Friday at Blissful and Domestic
It's a Hodgepodge Friday at It's a Hodgepodge Life Fun Stuff Fridays at Toys in the Dryer Feathered Nest Friday at French Country Cottage
Potpourri Friday at
2805
From Scratch Friday at Marriage from Scratch Pinned it, Made it at Finding My Way in Texas
Dwell on Friday at
Dwell on Joy
Financial Friday at The Grant Life
Finished it Friday at
The Spunky Diva
Create & Inspire at A Little Inspiration
Every{body's} Creative Endeavor at
Every Creative Endeavor
SATURDAY:
Get Schooled Saturday at
Too Much Time on My Hands
Tickled Pink at
504 Main
Scrappy Saturdays at
Candace Creations
A Pinteresting Link Party at Here's to Handy Andy
Saturday Nite Special at
Funky Junk Interiors
Sharing Saturday at Crafty Moms Share
Sweet Saturday at
Gingerbread
Once Upon a Weekend at Family Ever After
SUNDAY:
Not Baaad Sundays with Lamb Around Lisa's Linky Party at Lisa's Craft Blog
Creative Bloggers Party & Hop at
Homemaker on a Dime
Sunday Showcase at Under the Table & Dreaming