Now, you all know I am a classy gal. I mean, if I did a "What I wore..." post, it'd be trend-setting all. the. way. If you consider Target avant garde, that is. So, it should come as no surprise that I used a paper plate as part of my Spring Mantel.
That's right, my friends - paper plates are the newest craft supply you never knew you always had. Really, any thrifted plate will do - if you pick up a few mis-matched (or even chipped) plates the next time you're out scavenging for great deals, think about covering them with yarn, too. It's so easy! All you need is yarn, a glue gun (or patience if you want to use regular glue and save your fingerprints), and a plate.
The first thing I did was incorrectly mark the center of the plate. You can probably skip this step, and just go ahead and mark the center IN THE CENTER the first time. Then, I started coiling my yarn at my center mark. I glued it down pretty thoroughly as I went, because I knew I was going to stand this up and I didn't want loops of yarn dropping down off the plate.
Once I covered the whole surface, I carefully continued along the edges. I glued yarn along the entire edge on each side of the plate in order to completely hide the fact that this was, indeed, a paper plate.
I continued on a for a few more rounds on the back of the plate - just in case someone happened to stand against the wall next to my mantel and look down the length of it. Would you believe people are always doing that at my house!?!?!? OK, they aren't, but I found the process of gluing and coiling yarn strangely relaxing and just kept on trucking. (see that mark - one of those cross hatches is my mistaken center . . . why did I think the plate would have two different widths - it's a CIRCLE!).
And there you go - a gorgeous addition to the Spring Mantel. I'd love to tell you how I made those little crocheted baskets in front of my new plate, but I am horrible at keeping track of stitches and such, which is oh-so-helpful when writing a crochet pattern. At least you can make this plate in about 25 minutes or so!
Hop on over to these linkies:
Newest Link Party: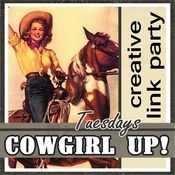 MONDAY:
Make Something Mondays at
Sarahndipities
Motivate Me Monday at
Keeping It Simple
Craftastic Monday at
Sew Can Do
Creative Me at
The Southern Institute
What's in the Gunny Sack? at The Gunny Sack My insta.week at Let Birds Fly
A Round Tuit at
Creating My Way to Success Mix it up Monday at Flour Me with Love
TUESDAY:
Handmade Tuesdays at
Ladybug Blessings
Tip Me Tuesday at
Tip Junkie
Get Your Craft On at
Today's Creative Blog
Tutorial Tuesday at Newlyweds on a Budget
Tuesday Linky Party
at
The Southern Product Queen
Inspiration Board at homework Take-a-look-Tuesday at Sugar Bee Crafts Party with my Peeps at How to Nest for Less The Power of Paint Party at Domestically Speaking Destination Inspiration at Teagan's Travels
WEDNESDAY:
Show and Tell Linking Party at
Blue Cricket Design
We Did It! Wednesday at
Sew Much Ado
Your Whims Wednesdasy at My Girlish Whims
Made by Me at
Jaqsstudio
Crafty Sasse Wednesday at
the Sasse Life
Show and Tell at
The Delectable Home
Show & Share at Lil Pink Pocket What We Wore & Made Wednesdays at Rae Gun Ramblings Wow Me Wednesday at Ginger Snap Crafts Wordless Wednesday at Marriage from Scratch
Kiss me I'm Irish at
igottacreate
From Dream to Reality at The DIY Dreamer
Homemade by You at
Pincushion Creations
THURSDAY:
Things I've Done Thursday at
Bear Rabbit Bear
Home for the Holidays at
Uncommon
Taking Time-Out Thursday at
Mom On Timeout
Create and Share at
The Trendy Treehouse
DIY Thrifty Thursday at
Thrifty101
Link it up Thursday at
These Peas Taste Funny
Thrifty Thursday at Saved by Love
Thursdays are Your Days at
52 Mantels
DIY Diva at Mine for the Making It's a Party at A Creative Princess Share the Love at Love Notes by Lauryn
FRIDAY:
Latest and Greatest Friday at
Days of Chalk and Chocolate
Frugalicious Friday at
Finding Fabulous
Freestyle Friday at
Happy Hour Projects
Shine on Friday at
Happy Go Lucky
Featured Friday at Blissful and Domestic
It's a Hodgepodge Friday at It's a Hodgepodge Life Fun Stuff Fridays at Toys in the Dryer Feathered Nest Friday at French Country Cottage
Potpourri Friday at
2805
From Scratch Friday at Marriage from Scratch Pinned it, Made it at Finding My Way in Texas
Dwell on Friday at
Dwell on Joy
Financial Friday at The Grant Life
Finished it Friday at
The Spunky Diva
Create & Inspire at A Little Inspiration
Every{body's} Creative Endeavor at
Every Creative Endeavor
SATURDAY:
Get Schooled Saturday at
Too Much Time on My Hands
Tickled Pink at
504 Main
Scrappy Saturdays at
Candace Creations
A Pinteresting Link Party at Here's to Handy Andy
Saturday Nite Special at
Funky Junk Interiors
Sharing Saturday at Crafty Moms Share
Sweet Saturday at
Gingerbread
Once Upon a Weekend at Family Ever After
SUNDAY:
Not Baaad Sundays with Lamb Around Lisa's Linky Party at Lisa's Craft Blog
Creative Bloggers Party & Hop at
Homemaker on a Dime
Sunday Showcase at Under the Table & Dreaming